Makerbot: Replicator Z18
Type: 3D Printer
Quantity: 1
Makerbot: Replicator 2X
Type: 3D Printer
Quantity: 1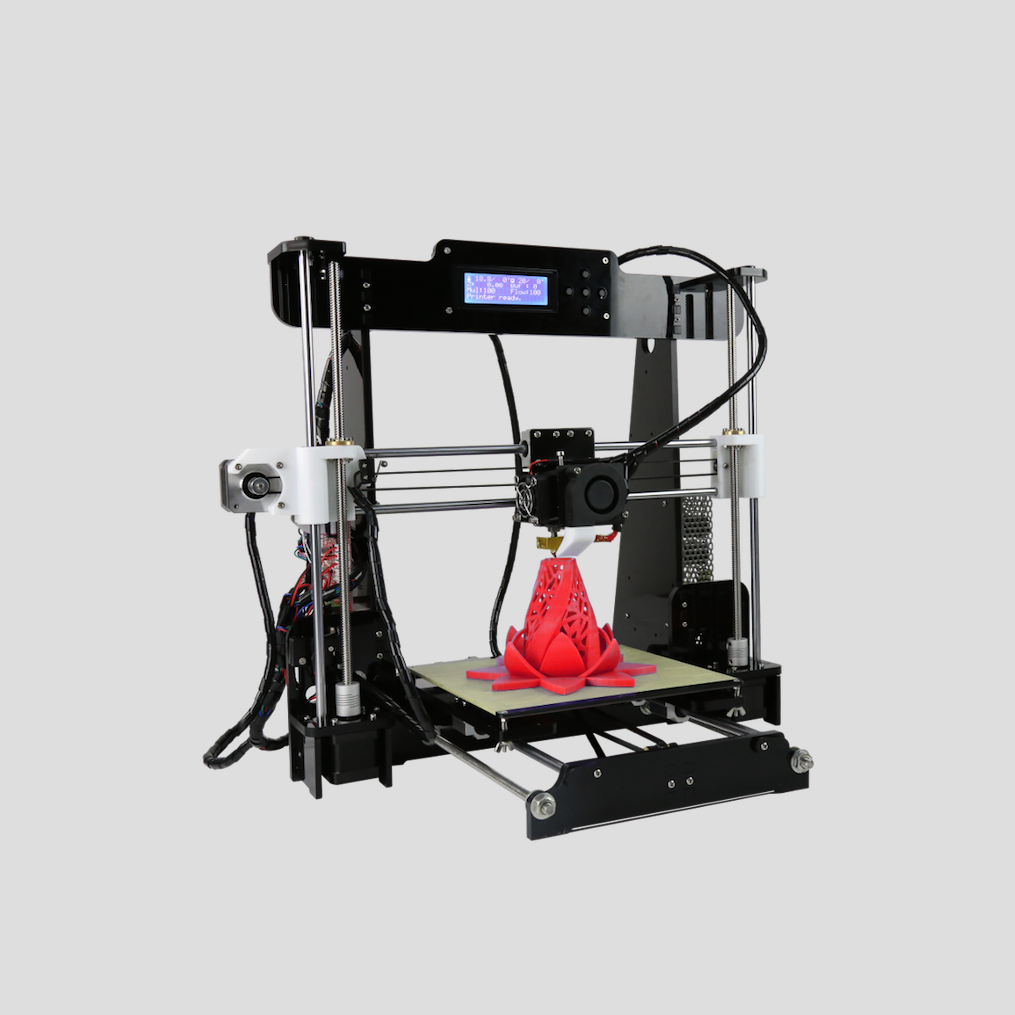 Anet A8 3D Printer
Type: 3D Printer
Quantity: 1
Cube 3D Printer
Items included: 3D Printer
Quantity: 1
SolidWorks
Type: Modeling Software
Description: SolidWorks is a solid modeling computer-aided design (CAD) and computer-aided engineering (CAE) computer program that runs on Microsoft Windows.
Tinkercad
Type: Modeling Software
Description: Tinkercad is a free, simple, online 3D design and 3D printing application for everyone. It is used by designers and hobbyists to make models and prototypes
About 3D Printing
Description
3D printing is a quickly emerging technology in the manufacturing industry. With 3D printing, manufacturers are able to print parts at a fraction of the cost of traditional methods. 3D printing is now becoming more affordable for consumers and small businesses. The process begins with making a 3D model through a modeling software or scanning an object. Then the object is printed layer by layer using a special plastic.
Equipment Reservation
Reservation Process
When equipment is required for extended periods of time in the Innovation Space and Research Lab it must be signed out. Equipment cannot leave the department. You can fill out the form but you must also leave your Student ID with the Lab Specialist.
Tech Kits
Tech Kits are part of the walk-in service provided by OPIM Innovate. There are three levels of difficulty meant for different users and their experience with the different technologies. Many of the Tech Kits build off each other as you progress.
Beginner
3D Printing with Makerbot Z18
Length: 30-60 Minutes
Description: 3D printing is an additive manufacturing method that lets you make parts using layers of liquid plastic. It is an amazing prototyping process that is very low cost and doesn't require an entire manufacturing facility. Portable printing devices are sold under brands such as Makerbot and they are as easy to use as a regular paper printer. It's a great skill to have if you are interested in DIY projects.
Intermediate
Creating a CAD Model
Length: 30-60 Minutes
Description: Computer Aided Design, or CAD modeling, allows users to create complex assemblies of different parts. Previously created designs can also be drawn up in CAD to make a standardizable model. Its an essential skill to have in industries like engineering, industrial design, etc.
Advanced
Building a CAD Assembly
Length: 30-60 Minutes
Description: An assembly is when two or more parts are combined into a single CAD file and form a completed part. In normal circumstances these parts will be built separately so they can be put together later. However, smart design decisions can allow someone to 3D print the assembly as one piece. This tech kit will help you create an assembly by using the previously created gear from the intermediate 3D Printing tech kit to make a simple gear train.
Projects
Sample Project 1
Utilizing our MakerBot Replicator Z18 3D Printer, Senior Randall Borruso designed a container for his microcontroller that was part of his senior design project. He built the model in CAD software and then printed out a number of prototypes as his project evolved.
Sample Project 2
The Ultra HD 3D scanner was used to scan a mug and transform the image into a 3D model that was later able to be printed using our Makerbot: Replicator 2X printer.